More and more, Montanan families struggle to afford a safe and stable place to call home. Tomorrow, the Montana Budget and Policy Center will release its first report on housing instability and its importance to families, workers, businesses, and our broader economy. We are excited to launch this new body of work that will help make the case for state and federal investments to improve access to affordable housing.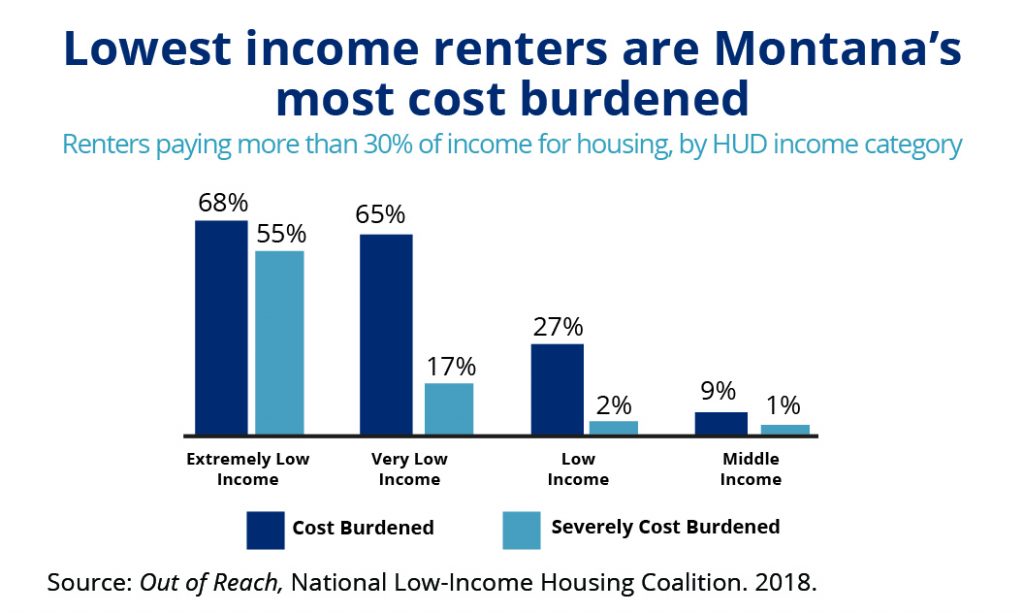 Renters face the greatest affordability challenges, and the problem is especially acute for households living in poverty. As of the 2016 Census, 39 percent of all renters in Montana were considered housing cost burdened. Housing cost burdened is defined as spending more than 30 percent of a household's monthly income on housing and utilities. The percentage of families that are cost burdened jumps to 68 percent for households making less than $20,000 a year.
When rent consumes most of the monthly budget, low-income families are forced to make painful trade-offs, cutting back on buying food, seeing a doctor, and investing in their children's education. These choices have devastating consequences for families and their children. As our report will show, families in this situation are at high risk of experiencing food insecurity and poor health outcomes for adults and children, and children are less likely to succeed in school and later in life. Communities also bear the brunt of the housing crisis. Employers report that a lack of suitable housing options inhibits their ability to hire the workforce they need to grow and many lose their employees when people are priced out of the communities in which they work. Furthermore, housing unaffordability is linked to increased rates of homelessness and increased demand for emergency services, which are both costly and socially detrimental to local communities.
The good news is that there are proven and sustainable solutions that address the housing crisis. Federal and state investments in housing assistance for low-income, cost-burdened families are one of the most effective ways to build up a family's security and improve the long-term outcomes for their children. Alleviating cost burden for working families also benefits local communities. An adequate supply of housing that is affordable for lower income households increases the money available for families to spend on local goods and services, and decreases demand on public services, like hospitals and emergency shelters. The development of affordable housing brings in federal dollars and these projects have a ripple effect for all community members – creating new jobs, increasing tax revenue and local incomes.
A stable and affordable home is the foundation of healthy families and thriving communities. Simply put, our state is stronger when all our residents have a place to call home. State and federal investments in affordable housing offer a path forward for addressing our housing crisis. Montana should invest the adequate resources to expand assistance for its citizens. No less than the security of its families, the success of its children, and the economic future of its communities is at stake. Check out our first housing report tomorrow!