The Coronavirus Aid, Relief, and Economic Security (CARES) Act provides important expansions to the Unemployment Insurance (UI) program to help relieve some of the economic decline caused by the COVID-19 pandemic. Unemployment has risen at an unprecedented rate. Nationwide, over the past two weeks, nearly 10 million people applied for UI. Montana has seen its UI claims skyrocket, with over 19,000 filing during the week of March 21.
Montana is expected to be one of the states hardest hit by sharp rises in unemployment due to its high share of jobs in the retail, hospitality, and leisure industries. The state is expected to lose 68,000 jobs by summer, with a projected job loss of 17.5 percent of private-sector employment.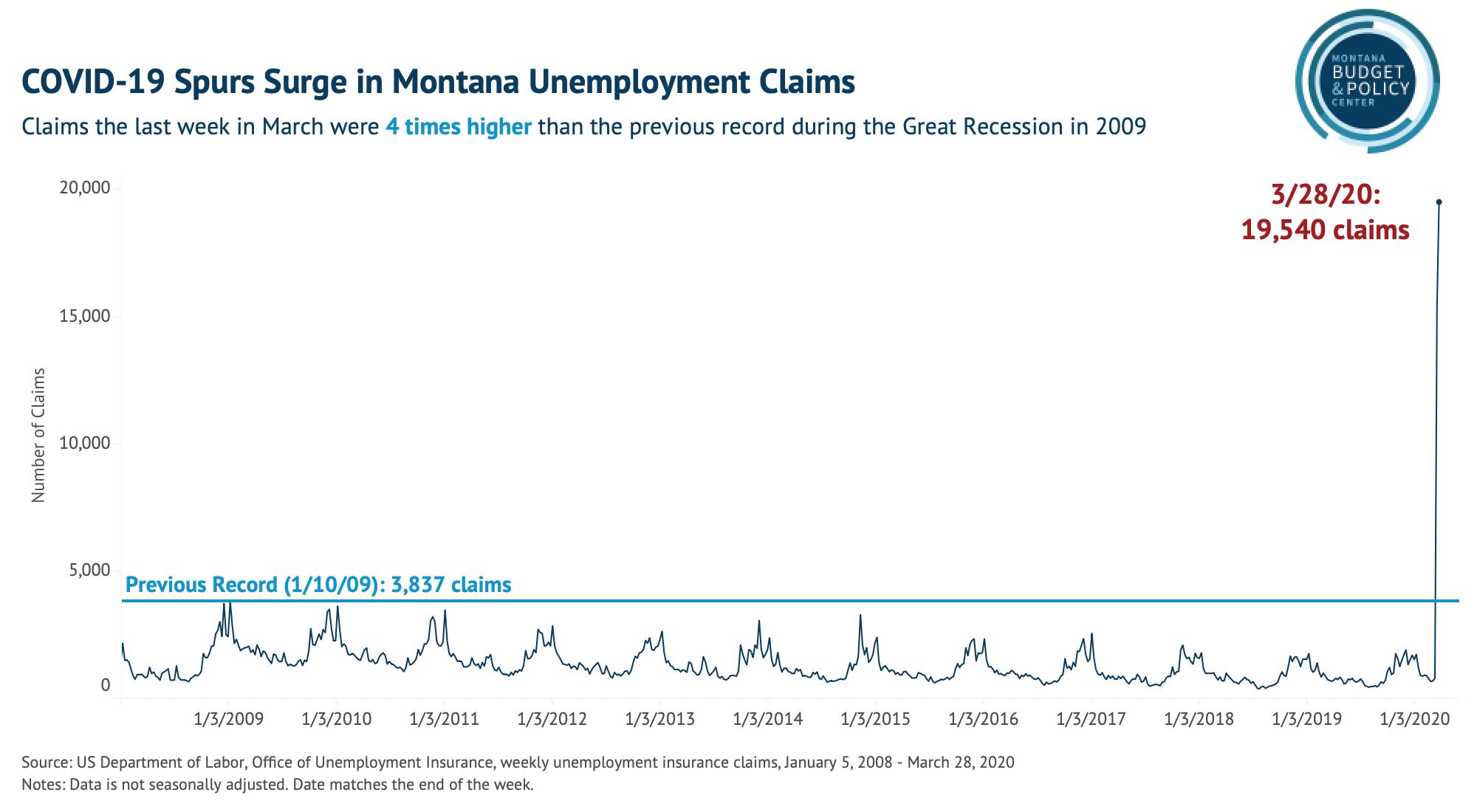 There are three primary expansions to UI, and confusingly, are all similarly named:
expanded benefit eligibility – new unemployment benefit program for those not eligible for state UI program, like self-employed workers (Pandemic Unemployment Assistance);
additional 11 weeks for those eligible under state UI (Pandemic Emergency Unemployment Compensation); and
additional $600 weekly benefit for workers receiving UI or Pandemic Unemployment Assistance (Pandemic Unemployment Compensation).
Pandemic Unemployment Assistance
Many workers are not typically eligible for Unemployment Insurance. Pandemic Unemployment Assistance (PUA) will cover self-employed, independent contractors, workers seeking part-time work, and workers who do not have a long enough work history to qualify for benefits. An applicant must show that they are unemployed and unable to work as a result of COVID-19 (place of work has closed; sick with or quarantined; caring for someone who is sick or quarantined; or caring for a child as a result of school or child care closure).
Workers are not eligible for PUA if they are able to telework or are receiving paid sick days or paid leave. Undocumented workers are also not eligible for PUA. PUA cannot exceed 39 weeks and expires on December 31, 2020. PUA is calculated under the amount that the state's current law – a formula that calculates UI based on a percentage of past wages earned. Those eligible for PUA are also eligible for the additional $600 weekly benefit under Pandemic Unemployment Compensation. PUA is federally funded.
Pandemic Emergency Unemployment Compensation
Prior to the passage of the CARES Act, Montana offered 28 weeks of Unemployment Insurance, more than any other state. The CARES Act allows for Pandemic Emergency Unemployment Compensation (PEUC), an extension of UI benefits through December 31, 2020. For Montanans, this will result in up to an additional 11 weeks of UI benefits.
The federal government will fund PEUC (that is, the federal government will pay the amount after Montana's 28 weeks of UI). However, the state may not move to reduce the number of weeks it currently provides of UI.
Pandemic Unemployment Compensation
The CARES act substantially increases weekly unemployment benefits for claimants through July 31 through Federal Pandemic Unemployment Compensation (PUC). Claimants will receive the amount they would normally receive in unemployment benefits, plus an extra $600 a week. Those receiving partial unemployment benefits are also eligible for PUC.
PUC is a significant expansion of benefits – in state fiscal year 2019, the average weekly benefit for Montanans was $384, with a minimum weekly amount of $163 and a maximum amount of $552. Those receiving Pandemic Unemployment Assistance (PUA), mentioned above, will also be eligible for PUC.
PUC is not considered income for Medicaid or Children's Health Insurance Program (CHIP, known in Montana as Healthy Montana Kids). Unemployment insurance is considered income for the Supplemental Nutrition Access Program (SNAP) and the Special Supplemental Nutrition Program for Women, Infants and Children (WIC). PUC is federally funded.
If you are in need of assistance
If you are an employer looking for more information, or if you have lost work and are in need of assistance, you can find more information at the Department of Labor and Industry's website, dli.mt.gov. If you want to submit an unemployment insurance claim, go to MontanaWorks.gov to submit an application. Answers and claims may be delayed as these programs are implemented and become fully functional.